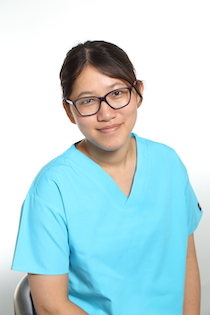 Srijana Thapa
Qualified Dental Nurse GDC no. 255834
FdSc - Foundation Degree in Dental Nursing
Professional Membership:
GDC – Registered with the General Dental Council
BADN – British Association of Dental Nurses
BADN – Indemnity Provider
Srijana is a fully qualified dental nurse. She first came to our practice as an agency dental nurse, where she demonstrated her dental nursing skills and efficiency.  Now she is one of our full-time permanent nurses.
Srijana  is originally from Nepal and relocated to England in her early teens. She is bilingual and can speak the Nepali and Hindi language fluently, which has helped our practice in communication whilst providing service to various origins of people.
Srijana has achieved her GCSEs, and A levels in Chemistry and Maths. Having a passion of helping people in need, she achieved her dental nursing qualification from the University of Northampton in 2014.
Besides updating her dental skills on a regular basis, she is enrolled on an A level Biology course, to further her knowledge in technology and science.
Srijana is a very caring and helpful member of staff and is always happy to help others. She is always keen to learn new skills, and has continually developed her computer skills.
Back to Our Team