My Dental Journey "I can smile again" – Dental Implants "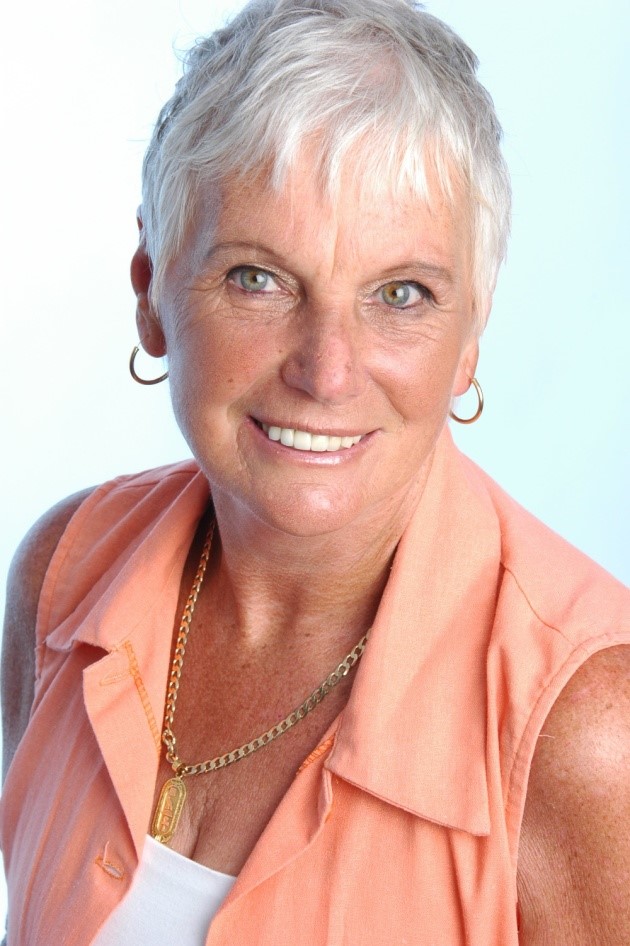 I have been asked to give my account of being a patient at the Slade Dental Practice. I suppose they asked me because of the large amount of work I've had done, but it could be because I used to be so scared that I only used to go to a dentist if I was in pain (real, bad pain) and now I willingly come along for my regular check ups.
Personally I would like to think it could be because of the lovely smile I now have! I lost one of my front teeth (about 55 years ago) when I fell off my bike. Back then the only option was a denture – and I was considered very lucky to get that!! Maybe it was that type of compassion which gave me my fear of dentists in the first place? Anyway, I had one denture after another for many, many years! I found out later that dentures can irritate the gum surrounding the teeth (Unfortunately I found this out after I had lost another tooth at the front) – now my denture was even more important to me – I used to reach for it first thing in the morning before I would even face my husband and even had a spare one made "just in case" – I was totally paranoid I would lose it or break it!
Later I found a dentist in East Sussex and had a bridge made to replace my two front teeth, but that meant having 2 perfectly good teeth cut down to stick it onto and I didn't really like the way it looked – The bridge was a bit too white and didn't look like my natural teeth at all, but my life was instantly so much better – I didn't have to pop my denture out after every meal to dislodge the food underneath it, and I could smile at my husband first thing in the morning (if I wanted to). Eventually (after about 6 years or so), disaster struck! My bridge was loose! I knew it was something major as it felt like the actual tooth was loose that the bridge was hanging onto. I didn't know what to do or who to trust. I didn't want to go back to the person who had done my bridge as I didn't really like the surgery or the way he had done the treatment. I asked a neighbour who recommended me to Rash Patel in South London.
She used to be his patient from years before when she lived up that way and still continues to see him. I thought to myself, if someone is willing to travel for over an hour for a dentist, then they must be quite good! She rang up and booked me an appointment and, together with my neighbour for moral support I came for a check up. What a difference – The place looks really small from the outside but opens right up inside. The staff actually looked happy in their work (better than the bored disinterest the nurses showed at my previous dentist) and actually smiled at me. The surgery was very clean and looked really nice, and the dentist Dr Patel, (who soon asked me to call him Rash was absolutely lovely).
Rashtold me the bad news – the tooth that was holding the bridge on was snapped all the way down to the root and needed to be extracted – I burst into tears. The idea of now having 3 teeth missing at the front was too much – I knew I was going to end up gummy everywhere like my mother when she died. The nurse came and comforted me (even gave me a cup of sweet tea) and Rash allowed me time to calm down before he continued with what the options for me were. The whole experience was quite different to what I had been used to before – he actually asked me what I wanted and what was important to me, not just tell me what he was going to do, like many of my previous dentists. I sat down and told him the things I wanted: To be able to have something permanent in my mouth so that I could smile first thing in the morning.
To have something, which looked like natural teeth – not like the "tombstone like" teeth on my bridge. To have something which would not cause any more harm to the teeth I still had. To be confident enough to smile. Rash went through all the options with me to replace my teeth, including another denture, a bridge or implants. He showed me before, during and after photographs of previous treatments he had done, which were really helpful. We decided that implants would be my best option and I was very relieved to find that I had an option that didn't mean I would be stepping back to a denture again. As I was very nervous about the surgery, we discussed about having that part of the treatment done under sedation.Rash sent me a letter detailing all my treatment options a few days later and I decided to go ahead with the implant treatment. The staff were very approachable. I was able to telephone either Rash or Paula (my implant co-ordinator) directly if I had any queries or concerns prior to my surgery.
On the day of the surgery, I was very nervous. Rash and Paula and another nurse were in silly gowns to keep everything sterile, I was quite impressed I could have been going into theatre. I don't remember much about the procedure because of the sedation but I remember thinking it was over so quickly!! Although, for the first few days, my mouth was a bit sore, it wasn't nearly as bad as I had imagined and I quickly got back to my usual routine. A few months later, I was sat in the chair looking at my brand new teeth. They looked natural and the results were amazing! I can't explain to you how much better I feel since having my implant work done, my only regret is that I didn't do it years ago! It's just like having my own teeth."
Mrs Patricia M , East Sussex